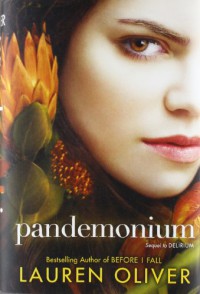 I've really loved Delirium and I am glad to say that Pandemonium have not disappointed me! Lena is a very brave and tough character, yet I see that she had her breaking point and she was trying her best to move on from Alex. I was really heartbroken when Alex was separated from her!
Pandemonium was Lena's journey from the Wilds. Raven was a very realistic and hardcore person. She was all about forgetting her pain and past, and moving on. When Blue( a very close child to her) died, she did cry but she moved on fast! That was what she taught Lena. Lena became tough and she buried the old Lena who was afraid.
There was Julian, a guy Lena fell in love with. In my honest opinion, I like Julian for Lena cause I see Lena happy again!! They made a pact to always stay together no matter what.
But Alex is back...! The ending was such a cliffhanger.. Gahh. I do not know weather Alex will be back with Lena..What will happen to Julian..AAAARRGGHH, this feeling;(( This book is really aaaah-mazing..
P.S. The cover!! God, ooh lalala!